Madame Tussauds London's Photographic Archive - Interview with curator Zoe Louca-Richards
Published:
Wednesday, October 2, 2019 - 15:00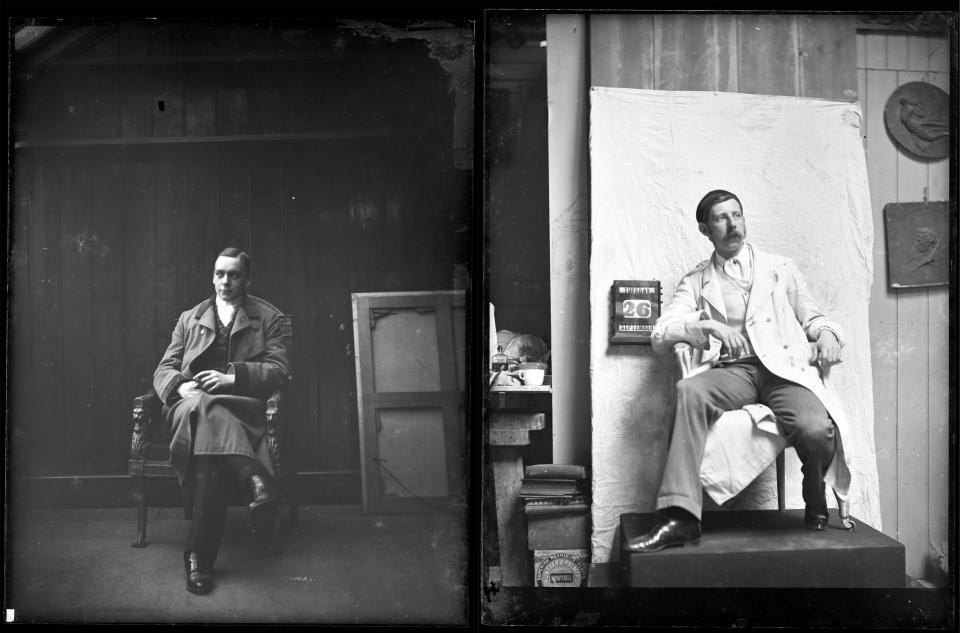 PCN's current Featured Collection is from the Madame Tussauds Photographic Archive, we've been talking to curator Zoe Louca-Richards about the collection and her work.
PCN, Hi Zoe thank you for taking the time to be our Featured Collection can you tell us a bit about this collection, its history and your role working with this collection?
As curator I am responsible for an eclectic collection documenting the history of Madame Tussauds London, its formidable founder Marie Tussaud, and her family, who were integral to the development of the business until the 1960s. Day to day I provide research support for the brand, and manage a heritage collection containing everything from a pair of Elton John's shoes, to Marie Tussauds' 1803 letters. For the past 18 months it has been my mission to identify the unique treasures we have hidden away in cupboards and basements, and through them reinvigorate our remarkable history. The glass plate negative collection drew my attention early on for both its documentary and aesthetic value. A small portion of the collection had been digitised in 2015 along with early company documents and records, but otherwise had been largely forgotten. 
At PCN we're very passionate about glass plates can you tell us more about this part of the collection?
The glass plate collection contains over 500 negatives, ranging in size and dating between 1890 and 1950. It provides a unique and unrivalled insight into the history of the Madame Tussauds attraction in the early 20th century and is a valuable resource for understanding the history of the company. The collection is thought to have been solely the work of John Theodore Tussaud, the great grandson of Marie Tussaud, and creative director/head sculptor of Madame Tussauds in the early 1900s. The John Theodore Collection is part of this broader collection, and comprises 3 wooden boxes containing 120 negatives, dating from the mid-1890s – the earliest in the entire collection. Unlike the rest of the Madame Tussauds glass plate negatives, which have at some point been rehoused in contemporary conservation wrappers and boxes, this small collection has remained in their original indexed 19th century negative boxes. This discreet collection of negatives differs from the broader Madame Tussauds glass plate negative collection as it contains not only early portraits of staff, but also family portraits and holiday snaps. It provides a unique and intimate insight into perhaps the second most famous Tussaud, and the reticulate work and family life of the man that saw the sale of the company out of the family, it's survival through WWI, and a devastating fire that nearly entirely destroyed the company in 1925.
What content does John Theodore Tussaud's glass plate negatives cover? And do you know anything about his interest in photography?
John Theodore's portraits, both in the studio and at home, exhibit a natural dynamism of pose and expression, distinct from the formal photographic portraiture of the late 19th century. Many believe that the snapshot only has an effect if we have a personal connection to it. However John Theodore's snapshots of his children have a haunting, mesmerising, aesthetic beauty about them that grips the viewer, and evokes feelings of nostalgia and childhood innocence. These family snapshots and studio portraits all exhibit John Theodore's exceptional ability to breathe life into static images, the very same skill that enticed the public so strongly to his wax portraits and Tableaus at Madame Tussauds. It's hard to say whether he considered his photography as an artistic endeavour, or purely a documentary tool. Despite being a prolific photographer and his clear aptitude for the art, there are no examples of John Theodore ever discussing his photography. However, these photographs are the only remaining examples of his artistic talent, as most of his sculptures were lost in the 1925 fire and later the 1940s bomb.  
Amongst the beautiful but haunting snaps of his children playing in cottage gardens, energetic studio portraits, and aesthetically pleasing landscapes of the English countryside, are a number of blurred or over exposed images. To the contemporary eye, these are the abject images that would be swiftly deleted without a second glance in today's digital world, but John Theodore preserved and indexed them equally. These fascinating images demonstrate someone grappling with how to master this relatively new technology, for both the benefit of his work, and his family record – finding value in both success and failure. John Theodore was an innovator, much like his great grandmother, with several registered Patents to his name, and whilst we cannot say if these "effects" were deliberate or mistakes, these images are a fantastic demonstration of the creative and experimental approach John Theodore was known by his friends and colleagues to take to all avenues of his work, whether in art or in business. Photography is of course now a significant part of the sitting process for creating our figures at Madame Tussauds, and John Theodore was most certainly the first Tussaud sculptor to utilise this new technology as part of the process.
How has working with this collection impacted on Madame Tussauds the attraction?​
The collection is helping to deepen our understanding of the attraction at the turn of the 20th century, a time of immense change for Madame Tussauds, and of John Theodore himself, the driving force behind its continued success during this period, and an integral member in what could be considered one of Britain's most prolific artist families. So far the cataloguing of the John Theodore Collection has been relatively straightforward thanks to the meticulous indexing undertaken by John Theodore himself, and his wife Ruth. Both the larger Glass Plate Negative Collection , and the discreet John Theodore Collection, not only provide staff with a visual insight into the attraction, but also the opportunity to learn more about the members of the family who founded and ran the attraction for over 200 years. The hope is that eventually all of the negatives will be digitised and catalogued, so that this incredible resource can be used and accessed to its full potential.
You see more images from this archive on our Featured Collection page, and you can read more about the Madame Tussauds Glass Plate Negative Collection, the John Theodore Tussaud Collection, as well as other items from the Madame Tussauds Archive by going to https://www.madametussauds.com/archive